Reviews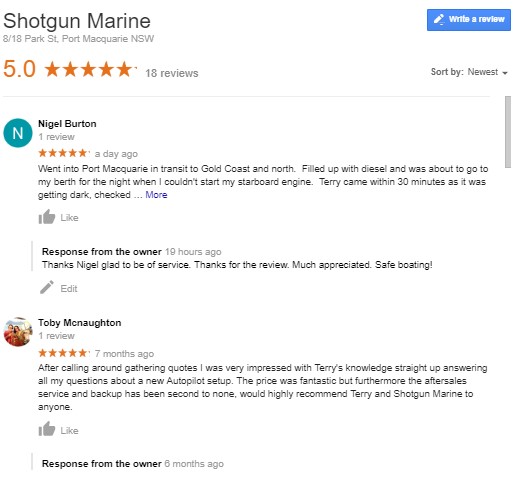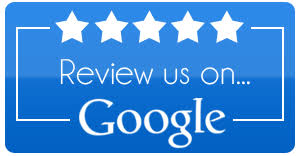 Hi Terry, thanks for the awesome service and follow up. I ordered the goods which were delivered promplty next morning to my door in QLD. Very QUICK! We not only saved on the item but also got extra as promised. Definatley will use Shotgun Marine Services again and highly recommend them!
Thanks Again Mario Babic - 5star!
Pleasure dealing with Terry at Shotgun Marine aquired all the equipment i needed had it packaged and sent in 2 days!!! If only it was that easy every other time i need something for the boat! Cheers Nugget B
Terry, Thanks for the great service and help with selecting getting my gear all the way to port Geographe WA. Highly recommeded -Col Pirie
Holy Cow now has cold drinks again- many thanks for the brilliant emergency service SMS! John & Kim
Terry has always provided prompt and efficient service and is extremely knowledgeable. Karen Burt
Thanks for sorting us out on the boat tez. You are a legend. W LAWRENCE
Sensational service will be back thanks terry much appreciated -GP
I was attracted to Shotgun Marine services for their true prices, but I came away enjoying the service more. Being a novice and also living remotely, Terry was able to talk me through each issue with my own installation. From prompt replies, phone calls at odd hours and tech information, the services that come with the great prices will see me using Terry again as well, tell you and all, how very good. thanks Terry, awesome work -Scott McAllister
Terry did an amazing job on the repairs to our Riviera. We have needed his services on numerous occasions and he has been nothing but efficient and offers great service. Highly recommended. - Shafer
Terry really knows his stuff and will provide the follow up support that you just can't get from those big chain stores Josua Howel
Shotgun Marine's service is second to none. Terry is outstanding to deal with and his customer service is great, thanks for such great service, would highly recommend him to anyone and he will get my business again. SPollard
A great company to deal with Communication superb with good quality products and
excellent customer service. Terry will go that extra mile without hesitation. I will definitely use them again and have no hesitation in recommending them to colleagues and friends. Mo Hodgson
After hearing from a trustworthy friend about Terry in port Macquarie we decided to get a full system upgrade when we arrived at Port Macquarie. Immediately after speaking to him on the phone, it was obvious he was a tradesmen and business owner who knew what he was one about and cared alot about the entire process from selecting the right gear based on practicality, possible future uses, safety and value for money. He professionaly set to work installing, testing, commissioning and even followed up on how we were utilising the new B&G chartplotter, forward scanner, auto pilot, radar and other equipment he completed in under the estimated time at under the estimated cost. Could not recommended shotgun marine highly enough. If your in the area a meeting with him would not disappoint. Best regards, Mick Becker
Terry and the Shotgun Marine team have a wealth of knowledge in marine electronics and are priced aggressively. Terry express shipped the items to Perth, WA with the order received in less then 48hours. The gear was installed and the boat back in the water without issue. Would recommend to anyone looking at new marine gear Tim Mellor
Tim Thank you. - Much appreciate your feedback. The hardest part about our business is getting the word out there. There are plenty of online shops....many are simply just a proccess line at the end of a computer. OUR DIFFERENCE You are guaranteed to get the expert tech advice on the phone not admin and messages and redirections. We dont just sell the gear we fit the gear we use the gear. Thats our unique and difference to the big fellas!
"Terry has undertaken all of the electrical work required on my 2 boats, both in the 8-10 metre length range, in the past 10 years. Not only is he technically competent, but being a boatie himself, he understands the special needs of boat owners & their craft. These qualities have earned him genuine respect within the local boating community"- John Ingram
"It is with pleasure that I submit this testimonial for Shotgun Marine. I have had the pleasure of knowing Terry and his team for over 15 years. In that time he has worked on not only my vehicles but more importantly my vessels, my toys! He has consistently given his attention to my needs 100 percent and has always backed up his service with his word. Only after dealing with incompetent people do you realise the expertise and dedication of true businessmen. I will always be a loyal customer."- Eric Walsh
"Terry from Shotgun Marine recently carried out extensive refit to my boat. 30,000 dollars worth of work and worth every penny! The Display unit that he recommended and installed work a treat. After hours of consultation, the package was suited to my needs and Terry ordered and carried out the work well within the quoted time frame. I know why he came so highly recommended. " Thank you Terry and happy boating.
This bloke knows his stuff! He loves his boating and that's reflected in his work and commitment to safety and navigation. Even his boys are trained up the same- no short cuts- no comebacks- Good on ya mate! - Mitch (Macca) Macintosh
I operate a boutique resort & cafe restaurant in a very remote location, Lord Howe Island. Among other things we operate 4 x diesel powered power generation plants, 4 x vehicles, several refrigeration plants, 2 x vessels & many small items of machinery. Keeping them all serviceable is quite a challenge in such a remote location. I have utilised the many services & skills of Terry Nocelli for over 10 years. I strongly recommend his services without reservation-- John Green, Earls Anchorage, Lord Howe Island