Posted by Shotgun Shelly on 21st Apr 2022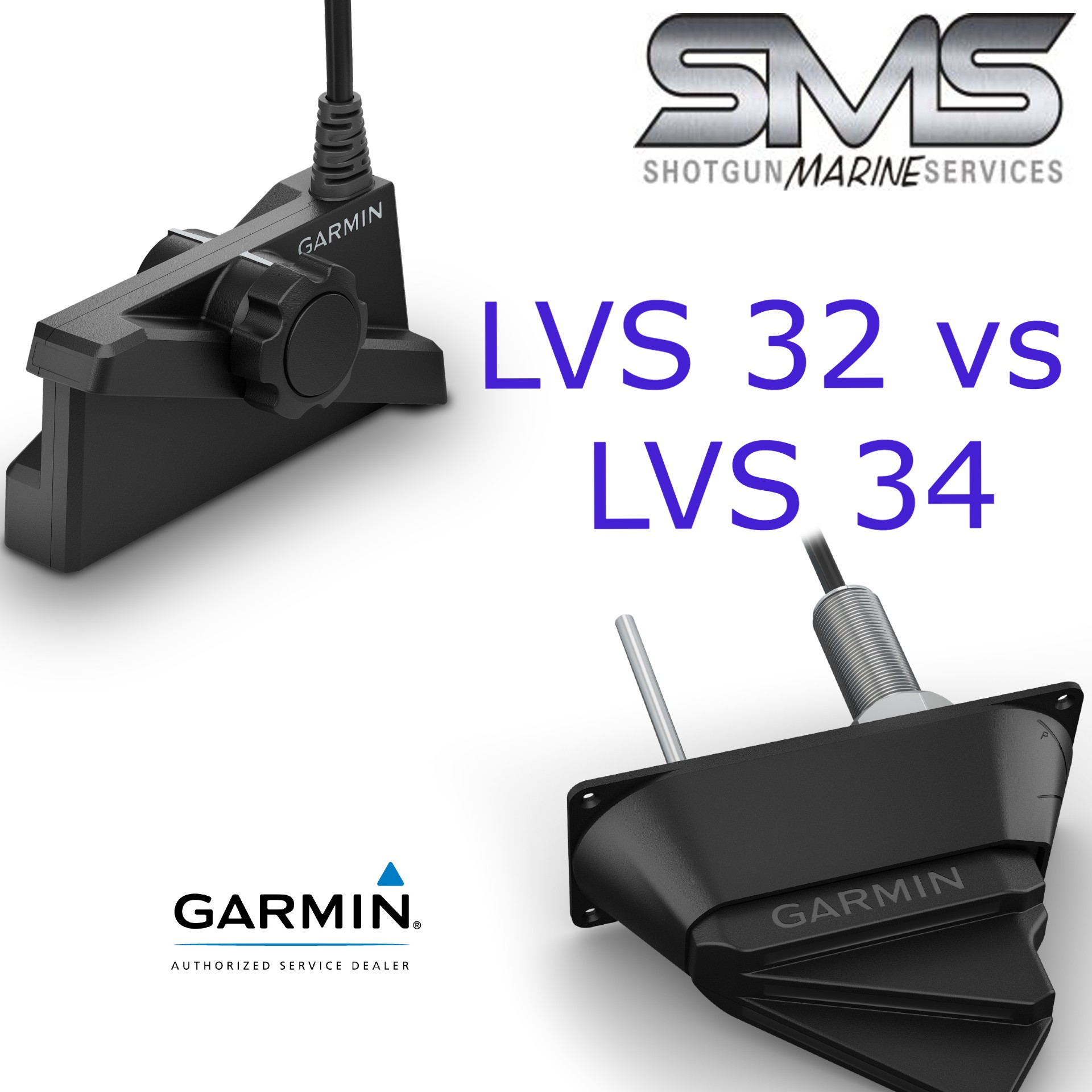 Check out the new Garmin LVS 34 - THE NEXT GENERATION IS HERE!!! When we got our hands on the LVS 34 we couldn't wait to get it out and show you how great it is! We got a ton of great feedback both positive and negative and we wanted to take another shot at bringing you guys the best side by side LVS 34 and LVS 32 info! Whether you are looking to use Garmin Livescope LVS32 or Garmin Livescope Plus LVS 34 open water fishing, the specs and differences are outlined head to head in this overview of the Livescope LVS32 vs Livescope Plus LVS34. Which one are you going to buy? Garmin has announced the new LiveScope Plus live-scanning sonar – now with 35% more target separation over the existing system with a sharper resolution, reduced noise, and Garmin's clearest images. The Livescope Plus LVS is the latest in Garmin's Live-Scanning Sonar. This incredible technology allows you to see real-time sonar images like bait, structure, fish in motion when matched up with a compatible chartplotter. So what's new or different?
First let's cover what's the same? Both will use the GLS Black Box. Same Blackbox - nothing new about the blackbox. Both have a 20 degree to 135 degree beamwidth. The LVS34 transducer is 6.4 inches long (16.25cm) 3.1 inches tall (7.8cm) and 1.9 inches wide (4.8cm)compared to the previous LVS32 which is 5.37 inches long, 3.8 inches tall and 1.75 inches. LVS34 weighs in at 2.25 lbs (1.025 kgs)as opposed to the 32 weighing 1.87 lbs .850 kgs.
The 34 is now mountable from either side of the transducer so you no longer need to turn it backwards. It also comes with a perspective Mode Mount which before was a hundred-dollar add-on if you bought the one from Garmin. Not only is it included with the new LVS32 you can change from down, to forward to perspective all without any tools!
The target separation is claimed to be a 35 percent improvement - meaning it is capable of identifying and separating targets as small as 14 inches at a distance of 100 feet from the boat. Screen clarity is also improved with better image stitching reduced sound and less onscreen artifacts. The first thing everyone notices is how clean the image is. There are no arrays from the stitching and virtually no clutter in the background. This will greatly improve the ability to keep track of your lure and notice extremely subtle differences in the structure and fish. The ghostry is also significantly reduced under normal operating conditions.
The crystals are arranged differently in a longer formation in the LVS34 which is why the size is longer to accommodate that. The longer the crystal the sharper and better image returns you will get. A in built stablilsation system is a major inhancement.
Echomap Plus series WILLNOT will not work with this unit. They do not support the new firmware that is required to run this.
Compatible with Echomap UHD, Echomap Ultra, GPSMAP 7x2, 9x2 10x2,12x2 GPSMAP 7x3, 9x3, 12x3 GPSMAP 8400 and 8600
Australian Recommended Retail Price is $1899.00 RRP for unit only
Australian Recommended Retail Price for the system is $2699.00 RRP Shotgun Marine has authorized Garmin Marine Dealers and we ship Australia Wide.
For more information or Product and Price information click the link