Posted by Shotgun Shelly on 26th May 2020
New MFD Furuno TZT3 - check out what the experts think!
It's constantly amazing when a brand-new collection of MFDs is introduced and Furuno TZT3 ( Time Zone Touch 3) is no exception. As you can see Furuno is breaking thru as promised with several improvements yet again with TZT3. Furuno has also revealed higher powered open-array, solid-state radar devices and the accessibility of their SCX20 as well as SCX21 satellite compass.
At first TZT3 MFDs will be readily available in 12, 16 and also 19 inch display screen sizes. The 12 inch MFD has hybrid controls with both touch and physical button and knob interfaces. The 16 and also 19 inch MFDs are touchscreen just however Furuno uses three various switch remotes that collaborate with the TZT3 and also can be seen in the top image over.
We note that the biggest improvement is what Furuno is calling the TZ Cloud Ecosystem. With TZT3, Furuno currently has an impressive variety of items that interact from TZT2 and also TZT3 MFDs, TZ iBoat mobile app, TZ Cloud internet system and TimeZero Navigator and also TimeZero Professional COMPUTER software. TZ Cloud enables waypoints, courses, images as well as areas to be integrated between all the TimeZero items. The synchronization is seamless and also rather quick with a freshly produced item showed across all (web attached) tools really rapidly. TZT3 comes in three exceptional glass screen sizes. TZT12F 12 inch Hyrbrid Touch Display , TZT16F 16 inch Hybrid Touch Display, Product Price and Info TZT19F 19 inch Hybrid Touch Display.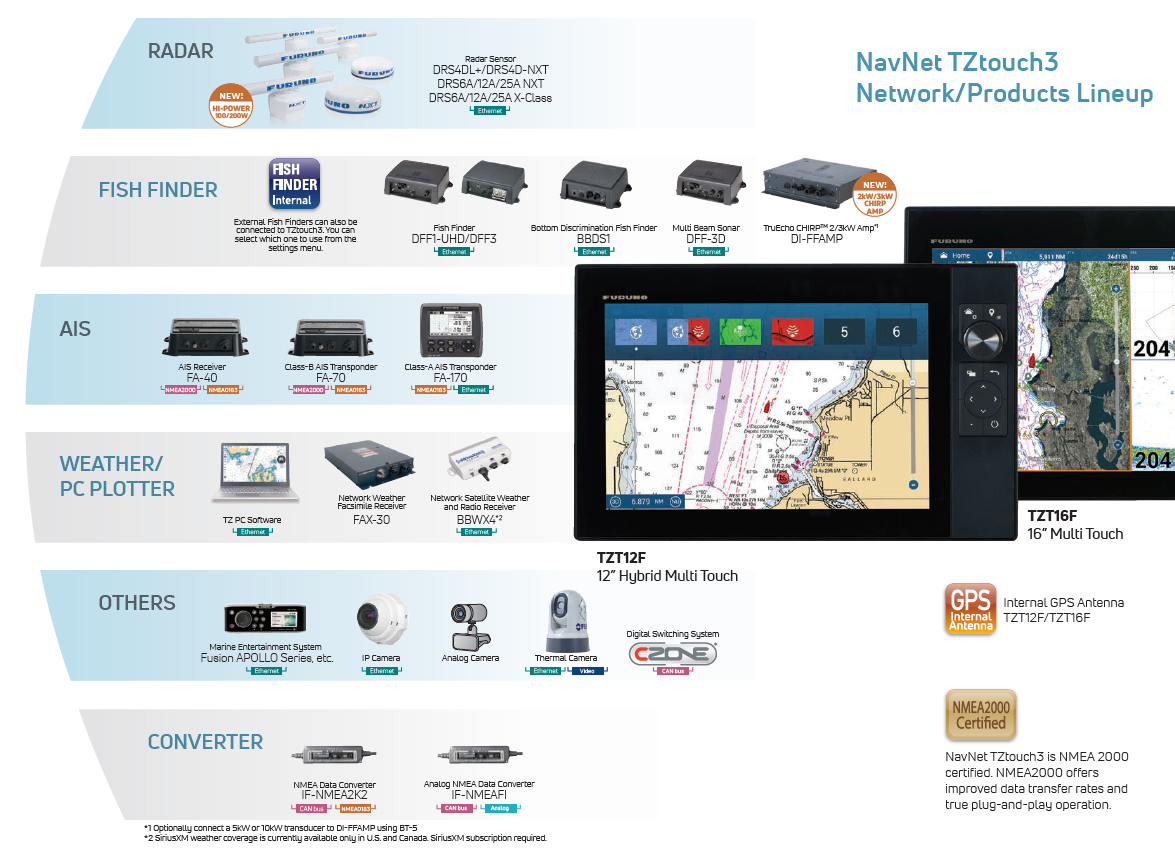 Furuno has additionally introduced the DRS12A-NXT and also DRS25A-NXT solid-state open-array radars. These will prove to be a popular unit. The DRS12A-NXT is a 100 watt radar with efficiency comparable to a 12 kw magnetron variety as well as the DRS25A-NXT is a 200 watt radar with performance about equal to a 25 kw magnetron. These radars work with TZT2 & TZT3 Multifunction Display
Rounding out Furuno's statements is the Deep Effect DI-FFAMP Product info. This amplifier connects to the inner 1 kw sounder in a TZT3 MFD and also enables you to enhance the sounder to 2 or 3kw (relying on the transducer) for much better deep water performance. If you currently have a TZT2 system on your watercraft and want to benefit from the DI-FFAMP Furuno states that you will certainly be able to introduce a single TZT3 MF Display on the network, link the DI-FFAMP to that MFD and the finder data will be readily available on all TZT2 and also TZT3 on the network.
Call us today for expert tech advice or package price for your new Furuno setup.