Computer-assisted groundings? Bad Navionics charts?
Written for Panbo by Ben Ellison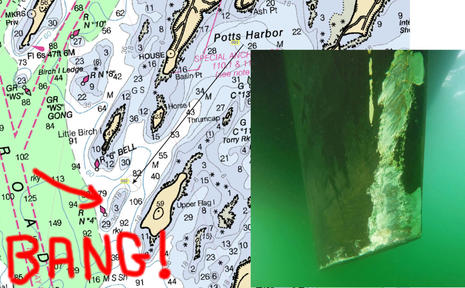 Despite incredible advances in chart availability and chart plotting, keels keep banging on reasonably well charted ledges and reefs all over the planet. Why? I've made far too many navigation errors to play the righteous scold, but I am taken aback by the tendency of boaters to blame technology and especially the recent trend toward castigating chart manufacturers like Navionics as if perfect data is a possibility or even an entitlement...
New in safety: Exposure OLAS Float-On, Vesper smartAIS deckWatch, and Digital Yacht Nomad portable AIS
Written for Panbo by Ben Ellison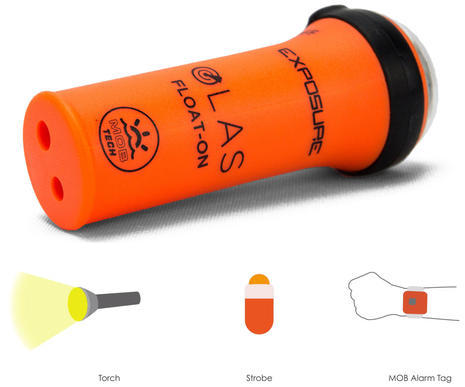 The Exposure OLAS Float-On is one hell of a flashlight (or "torch" in Brit speak). That's because it's also an automatic water-activated MOB strobe light and a Bluetooth MOB alerting device that can network with smartphone apps and more familiarly styled MOB tags. Details follow, along with several other interesting new safety products that also got the attention of the DAME Award judges at METS...
AIS issues: Garmin, Navico, McMurdo, AMEC and SRT
Written for Panbo by Ben Ellison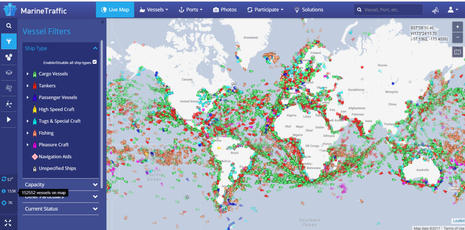 I like to write about marine electronics that facilitate safer, more enjoyable boating, especially new developments that seem headed in that direction. It's been gratifying, for instance, to see the infant Class B AIS that Panbo began covering in 2005 grow into a highly appreciated tool for cruisers, racers and fishermen. AIS is a huge success on many levels, but today the subject is two issues that may concern some Class B AIS users...
Garmin & Navionics part 2, a close look at ActiveCaptain the app
Written for Panbo by Ben Ellison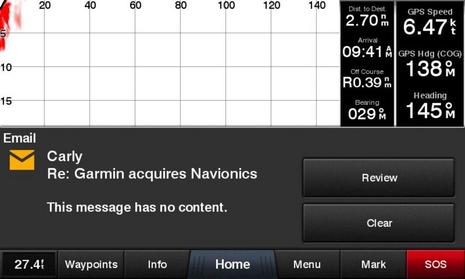 It's odd that I was writing about the Navionics Boating app's excellence at MFD integration when Garmin purchased the company and downright weird that the acquisition news arrived via a beta version of the brand new Garmin ActiveCaptain app that takes MFD integration to some other excellent places. For instance, have you ever seen phone notifications pop up on your helm screen while you're underway (if you choose)? The two apps are good news for lots of boaters as they are right now, but what fun to think of all their key features made into one...
Navionics & Garmin part 1, long live Plotter Sync
Written for Panbo by Ben Ellison
Did my planned back-to-back reviews of evolving Navionics and Garmin apps suddenly become moot when the Garmin acquired Navionics on Friday? I don't think so! The terrific Plotter Sync integration I've been experiencing between the Navionics Boating app and multifunction displays from Simrad and Raymarine is not likely to go away anytime soon, if ever, and it may add significantly to your current navigation happiness. Moreover, many Garmin owners are about to receive a wonderful app gift, and while the different advances are not such a competition now, together they suggest the broad harmony between phones, tablets, PCs and MFDs many of us will eventually experience on our boats...
Smörgåsboat 2: More tasty test electronics southbound on Gizmo
Written for Panbo by Ben Ellison
The jury is still out. Brian Lind may have written a blushingly laudatory profile of Panbo and me for PassageMaker magazine -- and you can now check out "Who is Ben Ellison?" online -- but I agree with regular readers who may rightfully doubt my 'authoritative' 'expertise'! This site is not the "arbitrator of marine electronics" -- no such thing exists -- and evidence is building that I've become a bumbling old boat guy barely in command of all the gear he's installed, plus very darn slow to write about it...
IBEX Winners: Lumitec PLI and Power-Pole Vision
Written for Panbo by Ben Ellison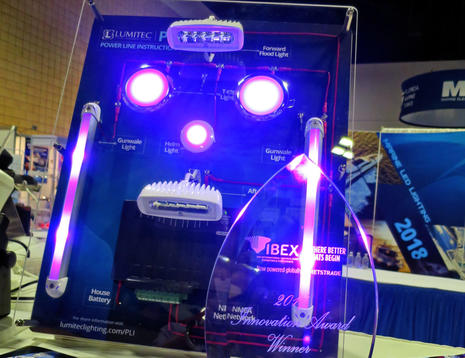 What's amazing and IBEX award worthy about the Lumitec demo board above is that while all those light fixtures are only connected to the same simple two-wire 12v power circuit, each can be switched, dimmed, strobed, color-changed and more, individually or as virtual groups. Lumitec calls the protocol Power Line Instructions (PLI), and, as innovative as it is, it had to share top honors in the electronics category with another new-protocol-based product, and we judges wished we could give out more awards. The boats of the future may be emerging from the fog...
Simarine Pico: Good ideas in battery monitoring & more
Written for Panbo by Ben Ellison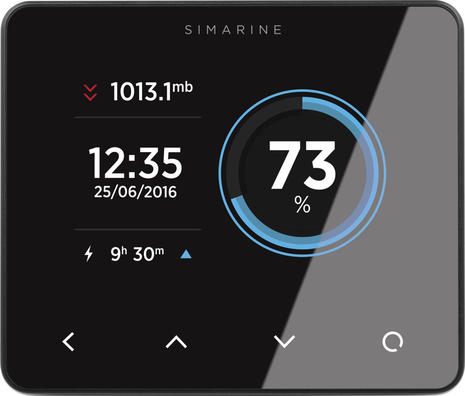 While this boat's main battery bank is at 73% state of charge (SOC) -- a near minimum for the long term health of many battery types -- the lightning icon and blue up-arrow indicate that the charging sources exceed the loads and, in fact, a 100% SOC is expected in 9.5 hours at current rates. The 3.5-inch touchscreen is also displaying time and barometric pressure with trend, and this is just the sleep screen of what seems to be a very modern family of reasonable-cost monitoring products. Say hello to Simarine...
Testing AIS MOB beacons, ACR's DSC feature especially
Written for Panbo by Ben Ellison
Given my accidental activation of an AIS MOB beacon a few weeks ago, it seemed like a good time to test beacons again. I hoped to at least see all the major brand multifunction displays properly react to an AIS MOB test transmission, putting up the distinct safety message that I should have seen during "the incident" and that every owner of an AIS MOB should be familiar with. Potential beacon users should also understand the specific activation, test, and deactivation controls on their device, plus I have two newer beacons with special features worth examining in detail...
Lessons learned by causing a false AIS MOB alert
Written for Panbo by Ben Ellison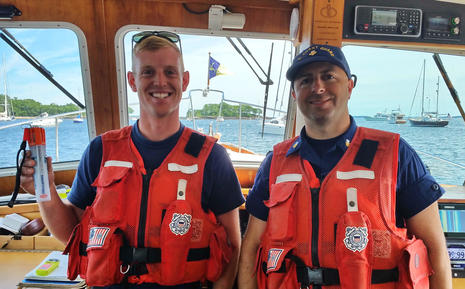 The grins tell the story: Mission accomplished! Due to an obscure but noteworthy electrical glitch, plus oodles of embarrassingly distracted seamanship on my part, a sizable U.S. Coast Guard team spent part of a beautiful Saturday looking for an AIS man overboard alert that seemed to be associated with my boat Gizmo. Fireman Joey Jansen-Hedrick and Petty Officer 1st Class T.J. Iaci (above) were the boarding party that had to deal with an owner/operator (me) who was pretty sure they didn't know what they were talking about. But they were politely persistent, and they were right...
Smörgåsboat: The tasty testing buffet installed on Gizmo for 2017
Written for Panbo by Ben Ellison While I do think that Gizmo offers a bountiful spread of delicious marine electronics these days, a more serious title for this entry might read: "Guilt: All the darn gear I've borrowed but haven't reviewed yet!" So the plan...
Beta testing FloatHub boat monitoring, and the wonders of marine WiFi
Written for Panbo by Ben Ellison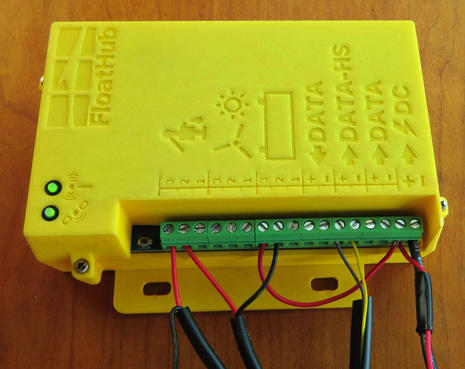 I don't usually write about beta testing, but the FloatHub monitoring system is already proving itself so smart and functional that I want its Kickstarter campaign to succeed and hope that some readers enjoy the good deal that seems available, at least for the next few days. Detailing FloatHub is also a good opportunity to discuss the many ways WiFi is being used afloat these days, a subject that many boaters are understandably confused about...
New at ICAST: Evinrude iDock and Raymarine Axiom Pro
Written for Panbo by Ben Ellison
I won't be at the ICAST fishing show this week, but I do know something about two of the major pre-show product announcements that came out today. For instance, while the introduction of yet another outboard engine joystick control system might seem insignificant, what if the technology is deeply integrated into the outboards, requires little rigging work or locker space, and costs a whole lot less? Say hello to iDock as it joins Evinrude's Intelligent Piloting System...
Garmin inReach Explorer+, armchair transatlantics & hands on
Written for Panbo by Ben Ellison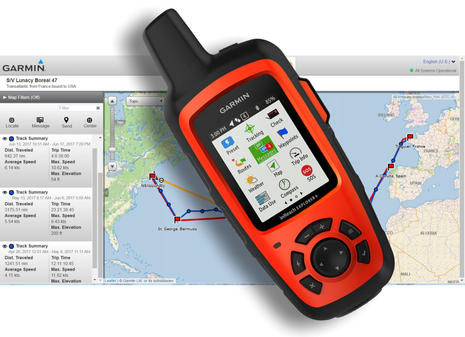 A big kick in my small life is seeing a technology I champion do well (especially when it involves a small company in Maine). I became a DeLorme inReach fanboy before it even shipped, and a succession of models have not let me down over thousands of testing hours. And I believe that the Explorer+ jointly developed with new owner Garmin is the best yet, based on personal experience and also on observing one serve well over thousands of transatlantic miles aboard S/V Lunacy (above). However, I also recently watched one Panbo reader suffer a very close call with inReach customer support...
Raymarine Axiom & LH3, a little fishing & then the install
Written for Panbo by Ben Ellison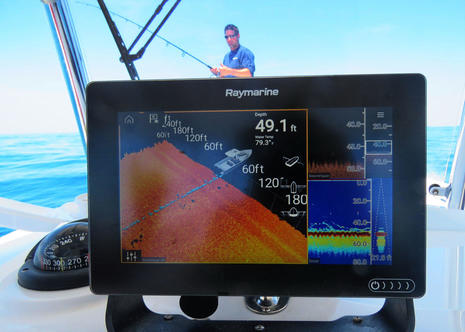 There is understandable grumbling about how Raymarine's new 7-, 9- and 12-inch Axiom multifunction displays shipped (somewhat late) without several significant features that Ray plans to deliver with a software update at a yet unspecified date. But I'm fairly confident that the longer term story is rosy. After two days of fishing with beta MFDs in Florida and installing a test Axiom 7 myself, I'm impressed with both the hardware and the new LightHouse 3 interface, and I'll be surprised if the missing features and more don't fill in nicely. Let's take a glass-at-least-half-full look at this major product line change...